A Purpose to Inspire People
Our Purpose creates the ideal environment for innovation to thrive, making a positive impact on our Society, Environment and Economy (SEE) by focusing on digital, data and tech skills where finance has a part to play across multiple sectors of our lives and in so doing seeing our regional businesses and people benefit.
Our Mission is to tackle the problems hindering the region's progress, building on the great organisations that call the NE their home and collaborate with organisations from anywhere that share the same goals.
We do this by bringing purpose driven projects with an aspect of finance, FinTech, AnyTech to face into areas such as the poverty premium, pension deficit, inclusivity, equality, financial crime, cost of living and levelling up. We do this through education, mentoring, working on real life projects, with unique data to improve our talent, fill their skills gap, to innovate and make an impact.
Unique Business Model
A Business Model to Unlock Our Boundless Potential.
1

Talent

Like other regions, Northeast England grapples with a significant digital skills gap, inhibiting its ability to align education with commercial skills demand to attract and retain top talent. We Solve some of this with real life projects, practicing existing, new skills alongside mentors and support.
2

Innovation

The Northeast has the potential to become a hotbed of innovation, but it has yet to reach a significant threshold, evidenced by low levels of entrepreneurship and fewer scale-ups. We solve this by collaborating with entrepreneurs, education, corporates, organisations to bring viable use cases to a point of further investment.
3

Impact

By addressing the digital skills gap, fostering innovation, alongside showcasing the region's academic and corporate expertise, we can unleash Northeast England's true potential. We enable our partners track their efforts all the way to impact.
Find out more
The Enablement Engine
Solving Problems, Creating Opportunities for a Better Society, Environment and Economy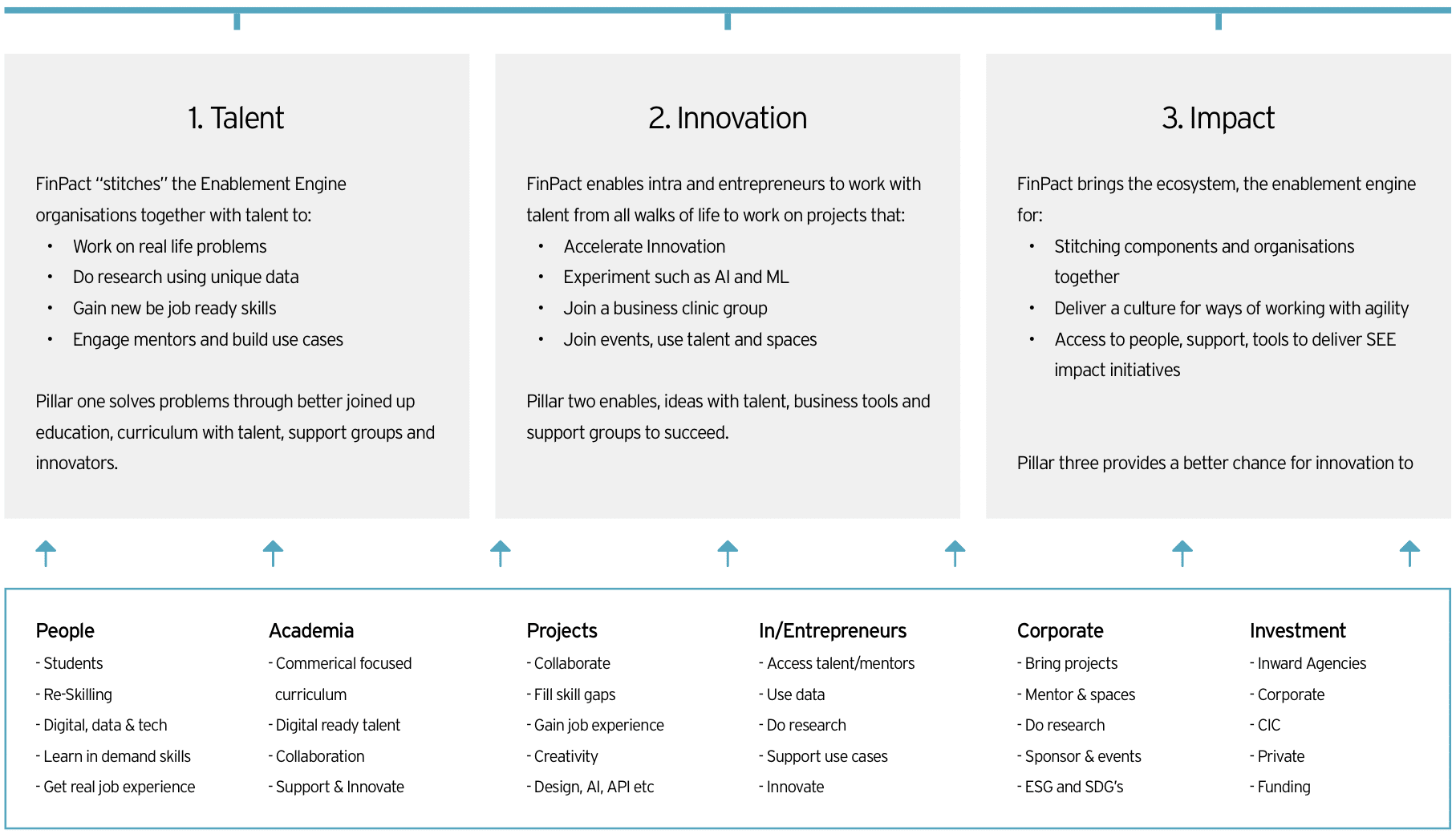 How we work
Harness the power of the enablement engine
The Enablement Engine "stiches" organisations together with people looking to improve their digital skills for a better chance in life. Our focus is on collaboration with the community of organisations, partnering with what is there in the FinTech NE ecosystem and wider cross sector market. Our objective is a catalyst with the building blocks, to sign post, support, enable us to drive continuous improvement and innovation for impact.
Tackling Problems, through Research and Use Cases
Together we identify the problem or opportunity statements and a hypothesis. We set up multi-disciplined teams looking to broaden their skills and experience. We provide data scientists, unique data assets to do research into the hypothesis. The team works up potential use cases, POC's that feed into innovation, design labs for potential investment from a broad range of investors
Partners & Contributors Reel